Early mock drafts had the
Miami Dolphins
taking either Jonathan Martin, offensive tackle out of Stanford, or Riley Reiff, offensive tackle out of Iowa. Lately though, most mock drafts have switched their picks for the Dolphins to defensive players, especially defensive ends.
This all began when Kevin Coyle was hired as defensive coordinator, and rumors began to surface that he is going to implement a 4-3 defensive scheme rather than the previously used 3-4. With the change, the Dolphins find themselves with only one pass-rusher at defensive end in Cameron Wake. The other defensive end position is up for grabs, and is expected to be filled through the upcoming draft.
The Dolphins could go either way with their first pick, but there's also a possibility that they can trade down or up, depending on the situation. If they are unable to land Matt Flynn or
Peyton Manning
, expect the 'Fins to try and outbid the
Cleveland Browns
and the
Washington Redskins
for the second pick, and the rights to Robert Griffin III. The Dolphins also need to fill other big holes, which may push them to trade down and accumulate more picks.
If the Dolphins stay put at No. 8 or No. 9, would they take an offensive tackle or a defensive end? Let's take a look at some of the players that might be on the Dolphins' radar.
Ingram is a powerful and speedy defensive end that can constantly put pressure on the quarterback. His strength is pass-rushing, and he would be a great complement to Cameron Wake, who would stop seeing double teams on every down. Ingram can also play outside linebacker if needed, but is better suited to play with his hand on the ground.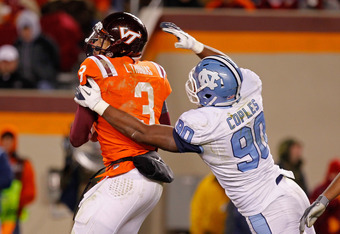 Geoff Burke/Getty Images
Quinton Coples, DE, North Carolina
Coples has the prototypical body to play defensive end in the
NFL
. He has been compared to former Tar Heel Julius Peppers, and Coples is expected to have the same level of productivity. The knock on Coples is that he won't give you 100 percent on every play, but with good coaching, he can become a Pro Powler as soon as he wants. He would also be an excellent complement to Cameron Wake.
Nick Perry, DE, USC
Perry has been linked to the Dolphins in recent drafts, and his stock is expected to rise from now until the draft. Perry has been flying under the radar until recently, but this may be a bit of a reach for the Dolphins. He's a good player, but is not in the same level as Coples or Ingram. If the Dolphins trade down in the draft, it would make more sense to take him then.
Jonathan Martin, OT, Stanford
Martin had the toughest job in college football while he was at Stanford, when he was asked to protect Andrew Luck's blind side. He has the ability to play left tackle in the NFL, but would be asked to play on the right side of Miami's offensive line. This is a big plus for the Dolphins. Having two Pro Bowl-caliber tackles, a Pro Bowl-caliber center and two good guards, the Dolphins would solidify themselves as having one of the best offensive lines in the league.
Riley Reiff, OT, Iowa
Reiff is another player that projects as a starting-caliber left tackle in the NFL, but would also be asked to move to the right side. Reiff didn't have as tough a job as Martin, but he is a very sound tackle that rarely makes mistakes, and would help protect whoever is playing quarterback for the Dolphins.
Other players the Dolphins might look at:
Robert Griffin III
Courtney Upshaw
Mark Barron
David DeCastro