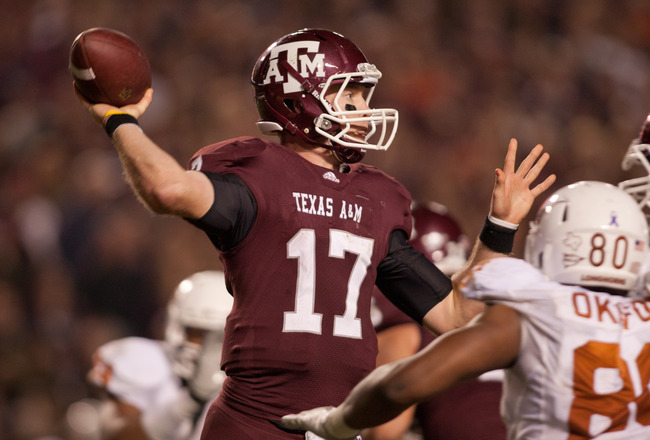 Darren Carroll/Getty Images
Free agency sure hasn't been friendly to us Dolphins fans. Most of us find ourselves blaming everything on Jeff Ireland, even if it's not even football related.
For example: "I have a flat tire. It's all Jeff Ireland's fault!"
With Joe Philbin, the Dolphins are expected to improve through the draft rather than through free agency. With that in mind, the Dolphins will need to accumulate as many draft picks as possible. They clearly proved their point when they traded
Brandon Marshall
for two third-round picks.
They might also look for trade partners in order to move back from the eighth spot in the first round. This would be ideal for Miami in order to get a better value on quarterback Ryan Tannehill if they are willing to draft him.
Some draft analysts have him going at No.8 to Miami, but if they can move back, they would be able to possibly receive a second-round pick and draft Tannehill later in the first round.
Without
Peyton Manning
or Matt Flynn, the Dolphins will most likely start the season with Matt Moore. They may possibly look for their quarterback in the draft. If teams like the
San Diego Chargers
or
Cincinnati Bengals
are willing to move up, the Dolphins can get their quarterback of the future. If Miami stays at eight, they are better off going with another position.
Let's take a look at what could possibly go down on draft day.
First Round
Miami Dolphins
trade their eighth pick to the San Diego Chargers for the Chargers' 18th and 49th picks.
With Miami moving down to No.18 and adding a second-round pick, I would feel more comfortable with them drafting Tannehill here.
Tannehill can become Miami's quarterback of the future if he is given enough time to develop. Mike Sherman knows exactly what he is getting and this pick might solve Miami's quarterback problem of the last decade.
Second Round
Miami would have some more ammunition here with the 42nd and 49th picks. With the departure of Brandon Marshall, the Fins need a legitimate wide receiver and they could select him in the second round.
Alshon Jeffery has been on a consistent drop through the draft boards, but could be a steal in the second round. If he is able to run a good 40 at his pro day, he will find himself in the first round. He has all the skills to be a Pro Bowler in the
NFL
and could give Miami and Tannehill a legitimate target for years to come.
With their second pick in the second round, Miami will most likely address their pass-rushing problems. Vinny Curry is able to play in both a 4-3 and 3-4 scheme, which would allow Kevin Coyle to be extremely flexible with his defense. Cameron Wake wouldn't be too disappointed with this pick either.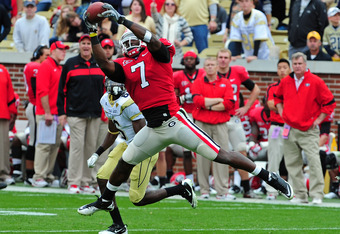 Scott Cunningham/Getty Images
Third Round
With the Brandon Marshall trade, the Dolphins received the
Bears
' 74th pick. With back-to-back picks in the third round, the Dolphins can address their offensive line and tight end issues.
With the first of these picks, the Dolphins may have a shot at drafting tight end Orson Charles. He recently had an
off-the-field issue
that may cause his draft stock to drop, but drafting him in the third round is a great value pick. He has the ability to stretch the field and give Moore or Tannehill some more options.
With the pick that follows, the Dolphins can take Brandon Washington. He can step in and play either right tackle or guard. With Lydon Murtha getting a lot of hype to start at right tackle, Washington might slide in and play guard to replace Vernon Carey.
Fourth Round
With a young quarterback on the roster, the Dolphins need to make his life a lot easier. Tommy Streeter is a raw but talented receiver. He has elite speed and if he can polish his route running he can be an elite receiver in the league.
A pairing of Alshon Jeffery and Tommy Streeter has the potential to scare any defense.
Fifth Round
Safety has now become a major issue for Miami. With Yeremiah Bell being released and the free safety spot up for grabs, Miami needs to improve this position as soon as possible.
Ezra Shaw/Getty Images
Antonio Allen comes to the NFL after playing the spur linebacker position at South Carolina. He will probably need a year to adjust and learn the position since he hasn't played the safety position exclusively, but he is a smart player that has the physical tools to succeed in the NFL.
Sixth Round
Cliff Harris has the type of athleticism that is very rare to find. He has plenty of speed, as anyone that plays at Oregon does, and can help the Dolphins with depth at cornerback, but especially on special teams. He does have character concerns, but a sixth-round pick is good value for Harris. With him playing special teams, Clyde Gates can focus all his energy on learning how to play the wide receiver position.
Seventh Round
Jacquies Smith was a solid player for Missouri that had some good games against very good teams. He is not considered an elite pass-rusher, but he can develop into a very serviceable backup. It is never a problem to have too many pass-rushers.
Summary
1st round: Trade back, draft Ryan Tannehill, QB, Texas A&M
2nd round: Alshon Jeffery, WR, South Carolina
Vinny Curry, DE/OLB, Marshall
3rd round: Orson Charles, TE, Georgia
Brandon Washington, OG, Miami
4th round: Tommy Streeter, WR, Miami
5th round: Antonio Allen, SS, South Carolina
6th round: Cliff Harris, CB, Oregon
7th round: Jacquies Smith, DE/OLB, Missouri