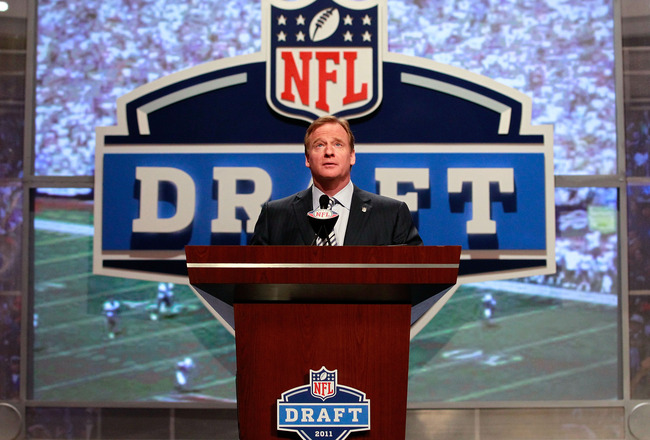 Chris Trotman/Getty Images
With April 26 getting closer everyday, the
NFL
Combine already in the rear view mirror and free agency less than two weeks away, NFL teams are beginning to clarify their draft strategy.
Teams begin to think about trades, whether to move up or down, and begin to analyze top players more closely while determining if they fit their current needs.
For the
Miami Dolphins
, picking at No. 8 takes them out of range for landing a player at their position of most need—quarterback.
With the quarterback position being the biggest question, what the Dolphins do at the position will determine what they do in the first round of the draft. If they sign a free agent, Miami will draft either a pass-rusher or an offensive lineman.
If they don't sign a free-agent quarterback, it is likely that the Dolphins will give up an arm and a leg to get Robert Griffin. So what should the 'Fins do with their first-round pick?
Draft a Pass-rusher
Miami only has one pass-rusher on its roster—Cameron Wake. The retirement of Jason Taylor will really hurt this defense in terms of putting pressure on opposing quarterbacks. However, if Miami decides to draft a pass-rusher, this will greatly impact the overall quality of this defense.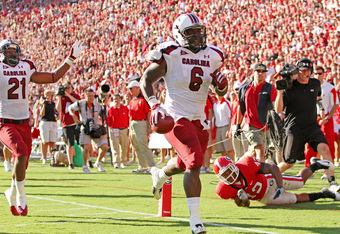 With another pass-rusher, Cameron Wake will stop seeing as many double teams and will be able to have a Pro Bowl-caliber season. Aside from quarterback, this may be Miami's biggest need.
Players to Keep an Eye On
Melvin Ingram
Courtney Upshaw
Quinton Coples
Whitney Mercilus
Nick Perry
Draft an Offensive Lineman
This may not be a popular pick among Dolphins' fans, but it will surely help the Dolphins quarterback situation moving forward. Whether they start Matt Moore or another quarterback next season, Miami has to shore up the right side of the line in order for any quarterback to succeed.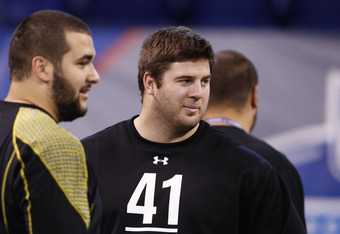 Joe Robbins/Getty Images
This is a good class of offensive lineman, which would allow Miami to wait until the second round to draft one, but let's not forget Jeff Ireland has surprised us all in recent years.
Players to Keep an Eye On
Riley Reiff
Jonathan Martin
David DeCastro
Cordy Glenn
Mike Adams
Draft a Quarterback
This is clearly the biggest need for the Dolphins in order to be a playoff team. We may see Miami start a new quarterback next year, however, it is still unknown if it will be a free-agent signing or a rookie quarterback.
If Miami is unable to land a free-agent quarterback, they will turn their attention to the draft. Andrew Luck is out of the question, but there's still a chance to land Robert Griffin with the second pick.
If Miami is going to draft a quarterback, they have to draft an NFL-ready quarterback, and there are only two this year. They can't afford to draft another project quarterback like Chad Henne.
Players to Keep an Eye On
Robert Griffin III
Ryan Tannehill
Kirk Cousins
Brock Osweiller
Trade Up
The only reason the Miami Dolphins would trade up in the draft would be to take Robert Griffin III with the second pick.
Out of three teams (
Cleveland Browns
,
Washington Redskins
, Miami Dolphins) supposedly in the running for the Baylor quarterback, the Dolphins have the least chance of enticing the Rams to trade them the pick.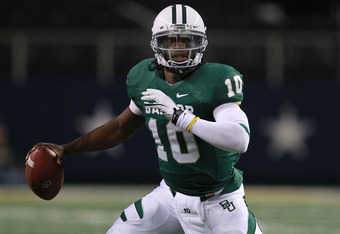 Ronald Martinez/Getty Images
Cleveland has two first-round picks this year, including the No. 4 pick, which would give the Rams a shot at drafting a player they really like.
The Redskins have the No. 6 pick, which the Rams might also like.
But the Dolphins, with the No. 8 pick, have less to offer the Rams. They will have to offer a bigger package than either of these teams, which would make Dolphins' management a little hesitant. If they are able to make the move, the Dolphins will most likely solve their quarterback problems that have plagued them since Dan Marino retired in 1999.
Trade Down
This is another possibility the Dolphins have in case they are unable to move up to draft Griffin. Miami may feel that none of the players available at their current position are worthy of the pick and would rather accumulate more picks.
By trading down, the Dolphins might get a better value for a right tackle later in the first round while getting another second-round pick. They may also get a game-breaking pass-rusher later in the first round rather than getting that with the No. 8 pick.