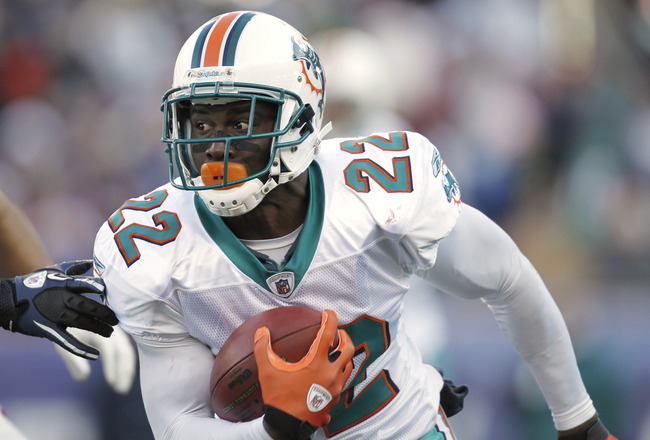 Winslow Townson/Getty Images
Not too long ago, the
Miami Dolphins
boasted a backfield that included former first round picks Ronnie Brown and Ricky Williams. They were considered to be one of the best running back duos not only in the AFC, but in the
NFL
.
The Dolphins lost both runners in free agency when Williams signed with the
Baltimore Ravens
and Brown signed with the
Philadelphia Eagles
. The Dolphins let both of them go at the right time as we have seen one back retire and the other struggle to get carries.
With the memory of Williams and Brown carrying the team in the rear view mirror, Miami anticipates having a similar impact with their new crop of running backs.
They had a breakout year from
Reggie Bush
, who ran for over 1,000 yards for the first time in his career since being drafted second overall in the 2006 NFL Draft by the
New Orleans Saints
, ironically, the same team that drafted Ricky Williams.
Miami is also hoping to receive a bigger contribution from sophomore Daniel Thomas, who showed glimpses last year, but fell short of expectations. He isn't as good in open spaces as Bush is, but can pound the ball inside and help in the red zone.
The Dolphins will also look for contributions in the red zone from Jerome Messam, who comes to Miami after a stellar career in the Canadian Football League. Messam projects more as a fullback, which Miami has lacked since Lousaka Polite left. Miami has already had success with a former stud from the Canadian Football League in Cameron Wake. If they can get lucky once again, Messam will greatly impact the effectiveness of this new offense.
Joining these three running backs is former University of Miami standout Lamar Miller. Miller was projected as a first round pick in the most recent NFL Draft, but managed to fall to the fourth round because of health issues and lack of experience. Considered by many to be the steal of the draft, Miller has phenomenal downfield speed which, when paired with Reggie Bush's speed, will drive offenses crazy. Miller will probably find himself as the third running back on the depth chart in his rookie season, but Joe Philbin will definitely find a place for him.
Lost in all the running back shuffle is Steve Slaton. Slaton will struggle to earn a roster spot and might be released. He was rarely used last year and barring any event in which Slaton blows away Miami's coaches this offseason, will not be used this year with the addition of Miller.
Miami's wide receiver corps don't look elite on paper and the quarterbacks right now are solid, but not elite. To help the offense blossom, the Dolphins will need as much as they can get out of the running back group, who will ultimately be helping Ryan Tannehill develop. They will be running behind an offensive line that looks improved and can ultimately lead the Dolphins to a more successful season than last year.